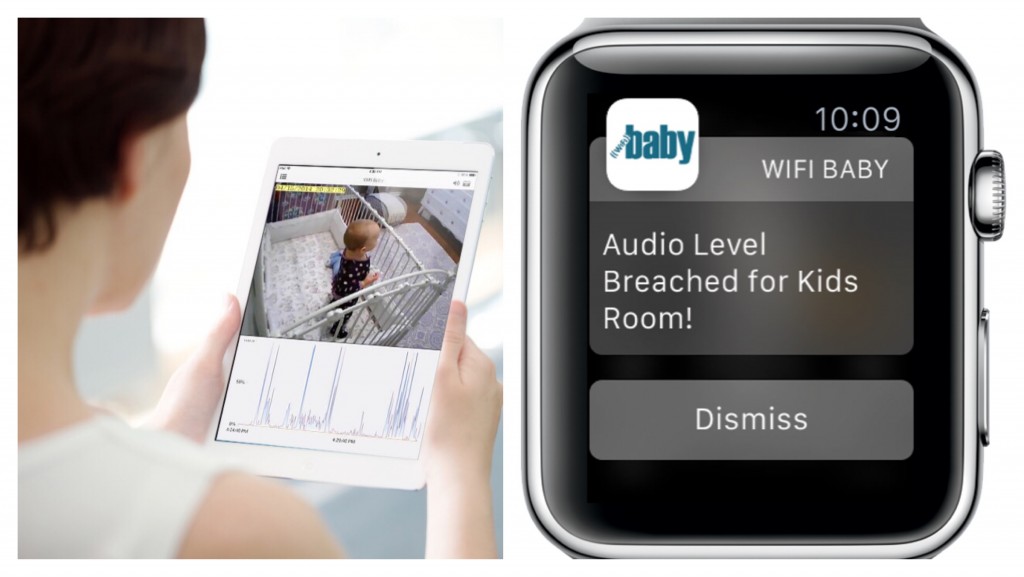 1. Why should I purchase from WiFi Baby and what is the difference between other baby monitors?  Technology. Traditional video monitors have a limited range from camera to receiver of a few hundred feet.   They use analog signals with several open, non-password-protected frequencies. If you have a house full of electronics you will receive interference from cordless phones, microwave ovens, remote-control toys – even your existing WiFi network! Distance also factors into the interference. None of these issues affect WiFi Baby.
Our non-cloud based monitor connects via your local WiFi network (LAN) and sends password-protected video and audio  to iPhone, iPad, Android, Mac, PC.  Anywhere. No computer needs to be on to operate.  The only wire is the power cord.
WiFi Baby is an American startup founded in 2010 and located in Lake Worth, Florida.  Learn more about our company and meet the family HERE. 
Our 4th generation version,  WiFi Baby 4, features:
FREE iOS app | Updated Android app 
HD video, a 35% wider view (vs. WiFi Baby 3)
Apple Watch audio alerts
Improved night vision
Streams in HD to Apple TV, Android TV, Chromecast, Roku, Fire TV.

WiFi Baby ships with 1 year of free MyWiFi Pro support.  If you ever need any help, expert setup assistance by phone or screen share is available by request during the day, night or even on the weekend.
The phrases "You get what you pay for" and "Imitation is the most sincere form of flattery" exist for a reason. Please read our Reviews and reach out to us if you have any questions.
2. How does the setup process work? Our Quickstart guide will get you setup quickly on your home network.
Plug in WiFi Baby to power and your router to authenticate the camera to your wireless network. (Ethernet cable used for wireless setup only)
Install or download our setup software to your Mac or PC

Download our

FREE iOS app

or compatible Android app
3. How is WiFi Baby different than a webcam? WiFi Baby is both a camera and a computer; a webcam requires a physical connection to a computer to function. WiFi Baby is a stand alone device that only needs an AC power connection anywhere in your home near your WiFi network. NO PC/MAC NEEDS TO BE KEPT ON TO OPERATE. It's compact design (just over 3″ sq., 1″ deep) and mounting bracket allows it to be securely mounted to the ceiling, wall, or shelf. Once the camera is mounted, the camera can still be removed from the mounting bracket, if you need to move it to another room.
4. What's the background of WiFi Baby? WiFi Baby is an American, family-owned company located in Lake Worth, Florida.  WiFi Baby was founded in 2010 by Stefanie Fox after being inspired by the challenge of finding a baby monitor to work properly in her three story townhouse.  Traditional analog and digital baby monitors simply did not have the sufficient range, picture or audio quality needed.  By turning a problem into a solution, WiFi Baby was born. Learn more and meet the family HERE.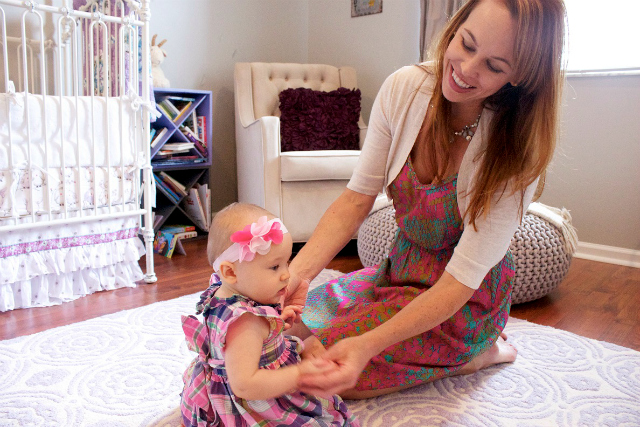 5. Is WiFi Baby compatible with iPhone, iPad, Apple Watch, Android, Mac and PC? Yes. Our official FREE iOS app and compatible Android app provide secure video, audio and notifications. Our iOS app also provides audio notifications to Apple Watch. The apps support multitasking background audio and up to 4 cameras on screen with simultaneous audio.  Multiple authorized users can access the camera at the same time. It is also compatible to access via any browser on Mac or PC.
6. Why aren't all baby monitors WiFi network and mobile device based?  Quite simply, the majority of companies that manufacture "traditional" analog or digital baby monitors have no incentive to bring this new technology to market since it would render their existing product line obsolete.  
7. Does WiFi Baby cost more than traditional video baby monitors?  Our price is comparable but we offer completely different technology and functionality. Deciding to go with WiFi Baby is the same reason you paid a little bit more for that car seat, stroller, and crib: Quality, Reliability, and Features.
8. Why should I choose WiFi Baby? You are purchasing from an American, family owned company founded in 2010 with U.S. based customer service and tech support. We have a history of top media and customer reviews and are are currently on our 4th generation version: WiFi Baby 4.
Free MyWiFi Pro Setup Support
Video and Visual Setup Guides
Free iOS App & Secure Remote Viewing: No Fees, No Cloud
9. What is the return policy?
"Wifi Baby is a family owned, American based company started by parents for parents. We sell quality products that perform as advertised and have received positive media and customer reviews of our products as a result. We offer easy 30 day returns and a 1 year warranty including free US based tech support by email/phone/screen share and hassle-free exchanges for issues past our 30 day return policy. If any issues arise, it is our goal to resolve them quickly. Please read our return and technical support policy and buy with confidence. " – Wifi Baby CEO – Stefanie Fox
Please read our full return policy HERE.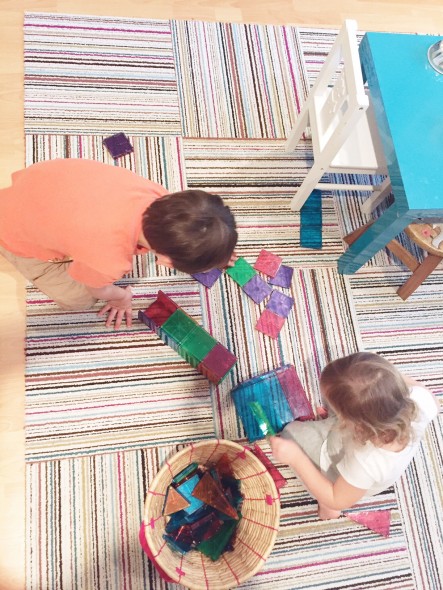 10. Does this work on a server or cloud service? Do I have to sign up for an account and are there ongoing fees? No, there are no monthly fees for remote video and audio on iPhone, iPad, Android, Mac or PC. There is no "WiFi Baby Server" or cloud service involved between your mobile device, PC or Mac and your camera.
11. Can I access my WiFi Baby from multiple devices at the same time? Yes. You can access the camera using the app from multiple devices (iPhone, iPad, Android) simultaneously with an authorized username and password.  You can also connect via browser on Mac or PC at the same time.
12. Can my neighbor access my WiFi Baby video/audio feed if he owns the same model? No. Unlike traditional monitors that work on open analog and digital frequencies, the video and audio can only be accessed with the camera's specific address, a username and password.
13. What if someone hacks into the "WiFi Baby cloud?" Can they look/listen in my house? No. There is no cloud involved with our monitor. You are accessing your own camera directly on your Local Area Network (LAN) at home and your secure mywifibaby.com URL when away. For detailed information about security and privacy please visit HERE.
14. What's in the Box?  Does WiFi Baby come with it's own monitor/receiver? No, there is no need to carry around and keep track of yet another device.  WiFi Baby pairs with devices that you already own via mobile apps.  It streams password-protected video and audio without distance limitations via app on iOS or Android.
15. When using the app, will it turn off when my iPhone, iPad or Android device goes into lock screen mode?   No.  The app is designed for continuous monitoring.  It provides background audio (like iTunes, Pandora) so in lock mode you can still hear your child.  In addition, audio notifications can be set (vibrate, beep, etc) based on your preference.  The lock screen option is perfect for overnight monitoring as your device's screen does not have to be on.  When you hear a cry or a notification you can return to the app.
16. Does the WiFi Baby app stop working if I leave and use other apps ? One of the many great features of our FREE iOS app and compatible Android app is the flexibility to multitask while the audio and alerts run in the background (like iTunes or Pandora). You can email, text, use other apps and when you hear a sound or alert, just go back to the app for full video and audio.
17.  Can I listen to iTunes, Spotify while still monitoring my child?  Yes. The apps provide "audio mixing" so you can use other audio sources (streaming music, games, etc.) at the same time.  The best way to utilize this feature is to combine it with auto-mute via the apps.  By doing this, you will only hear audio and receive notifications when the sound level in the room exceeds the level you set.
18. When using the app, how long will my battery last?  When you are in the app, battery use is comparable to streaming video (ex. YouTube).  If you leave the app and are utilizing the background audio feature it uses less battery and is comparable to streaming music (ex. Spotify).  We recommend charging your device for overnight monitoring.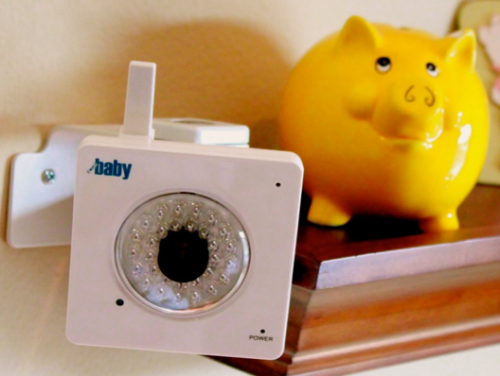 19. Do the apps work with the latest versions of iPhone, iPad & Android? Yes. Our FREE  iOS app works with  iOS 7  and iOS 8+ .  We recommend iOS 8 or higher for best performance.  If you have an older generation iPhone or iPad running iOS 5 or 6 please use our recommended 3rd Party iOS app.  This includes iPhone 4s, 5, 5c, 5s, 6, 6 Plus,  iPad 2 – iPad Air and all iPad Minis.  On Android the minimum is 2.3.  We recommend 4.3 or higher for best performance.
20. Can I view/hear multiple cameras from the same iOS or Android device? Yes. The iOS and Android apps provide simultaneous VIDEO & AUDIO up to four cameras.  You can also get simultaneous video/audio from multiple cameras on any browser by opening up multiple windows.
21. Is the video RealTime using the app?  Yes. WiFi Baby provides RealTime video using the iOS or Android apps.  WiFi Baby is optimized for mobile devices.  If you are using a browser on Mac or PC there is a buffering delay of 3-5 seconds.
22.  Is the audio RealTime with the app? No. There is a slight delay of about one second for audio. Technical Info:  The audio stream is processed separately so you can leave the app and still hear audio.
23. What is the range and clarity of the night vision?  WiFi Baby has a range of up to 30 feet in complete darkness, the longest of any baby monitor on the market.
24. Is it recommended to take your WiFi Baby camera on vacation and reconfigure the monitor on another wifi network?  It is not recommended.  Once your WiFi Baby monitor is setup on your home network it is authorized ONLY on that network to access at home or away.  You would need to reset the camera to factory defaults for security reasons, then set it up on the other wifi network and reset it again when you bring it home.  However, the app DOES allow monitoring of multiple cameras in multiple locations.  If you plan on monitoring frequently at two locations (ex. your home & grandmas), we recommend the WiFi Baby Twins set.
As far as a hotel or any public wifi it is not possible.  The initial wireless setup requires an Ethernet connection to a router using the setup software on PC or Mac to authenticate the monitor on that network.
25. Are there Blackberry or Windows Phone Apps? No.
26. Can the WiFi Baby camera run on battery? No, the camera needs an AC connection. Besides the included 6 foot AC adapter the camera is completely wireless.
27.  What are the WiFi Baby mounting options?
Wall or Ceiling:  Use the two included screws and wall anchors with the adjustable mounting stand.  You can also use the six adhesive clips for a cleaner look to guide the power cord down the wall.
Shelf:  Use the attachable rubber "feet" on the bottom of the stand.
Free Standing:  Use the camera without stand with the attachable rubber "feet" on the bottom of the camera.
28.  Does WiFi Baby pan or tilt?  No.  While WiFi Baby does not pan and tilt it has a wide viewing angle. For examples, please see app screen shots in our Store, our Facebook page or watch our Live Demo.  In addition, WiFi Baby 4 offers HD video and a 35% wider view compared to WiFi Baby 3.
29.  Does WiFi Baby zoom?  Yes.  WiFi Baby has "pinch to zoom" via the mobile apps.  WiFi Baby 3 offers 4x zoom, WiFi Baby offers 8x zoom.
30. What are the specs for the camera and AC adapter? WiFi Baby 3 and WiFi Baby 4 AC adapter specs: Input is 100-240v, 50/60hz 0.5A max. Output: 12V, 1000mA.
31. My home is wired for Ethernet in every room. I prefer to hard wire WiFi Baby. Is this possible? Yes. While WiFi Baby is wireless, if you prefer an Ethernet connection you can hard wire the camera using the port on the back of the camera.  When plugged into Ethernet, it defaults to a wired connection and the functionality remains the same.