FAQ
As of 2/2018 WiFi Baby inventory is sold out on our site, Amazon and valued resellers.
To learn more and for other questions please visit the link below.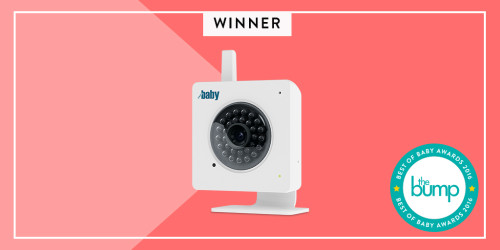 Please summarize WiFi Baby's features and company background.   WiFi Baby has been rated the best baby monitor and best baby monitor app 2016 by The Bump (thebump.com), one of the largest parenting sites. WiFi Baby 4 (4th generation) is a smart home baby monitor that syncs to your WiFi network (ex. like your laptop, tablet) and pairs via baby monitor apps to view anywhere on iPhone, iPad and Android.  The only wire is the AC adapter. It does not need a computer to function or any wired connection to your router and is password-protected. Our company is an American startup founded by parents in 2010 and located in Lake Worth, Florida. Learn more and meet the family HERE.
WiFi Baby 4 Feature Summary: BUY NOW
HD Video, 35% wider Field of View vs. WiFi Baby 3
Unlimited Range: Connect anywhere on iOS or Android Apps
Compatible with Apple Watch (notifications), Apple TV, Fire TV, Chromecast
Nanny Cam DVR.  Camera records up to 32G with MicroSD card
Apps: Add up to 4 WiFi Baby monitors on screen with simultaneous audio, notifications*
Night vision range up to 30 feet.  Zoom via apps.
Home: No cloud. Connect via apps using only the local network (LAN)
Away: No cloud. Connect via apps using a secure and unique URL
Small, Sleek Design (D: 3.3″ x 3.3″ x 1.2″ W: 5.3 oz)
* Each WiFi Baby monitor sold separately. Twins (2-Pack) available at a discount HERE.
Is WiFi Baby compatible with iPhone, iPad, Apple Watch, Android, Mac and PC? Yes. Just download our FREE iOS app and compatible Android app. Our iOS app also provides audio notifications to Apple Watch. The apps support multitasking background audio and up to 4 cameras on screen with simultaneous audio.  Multiple authorized users can access the camera at the same time. It is also compatible to access via any browser on Mac or PC.
What if I use other apps?  Can I still hear audio?  Yes.  You use other apps while audio works in the background.  You can also use auto-mute and set a preferred noise level and be notified by a pop up, vibration or alert.
When using the app, what about when my iPhone, iPad or Android device goes into lock screen mode? The app is designed for continuous monitoring.  It provides background audio (like iTunes, Pandora) so in lock mode you can still hear your child.
What about overnight monitoring?  Yes, if fact it is designed to do exactly that.  In addition, audio notifications can be set (vibrate, beep, etc) based on your preference.  The lock screen option is perfect for overnight monitoring as your device's screen does not have to be on.  When you hear a cry or a notification you can return to the app.

Compare Us | Click for Full View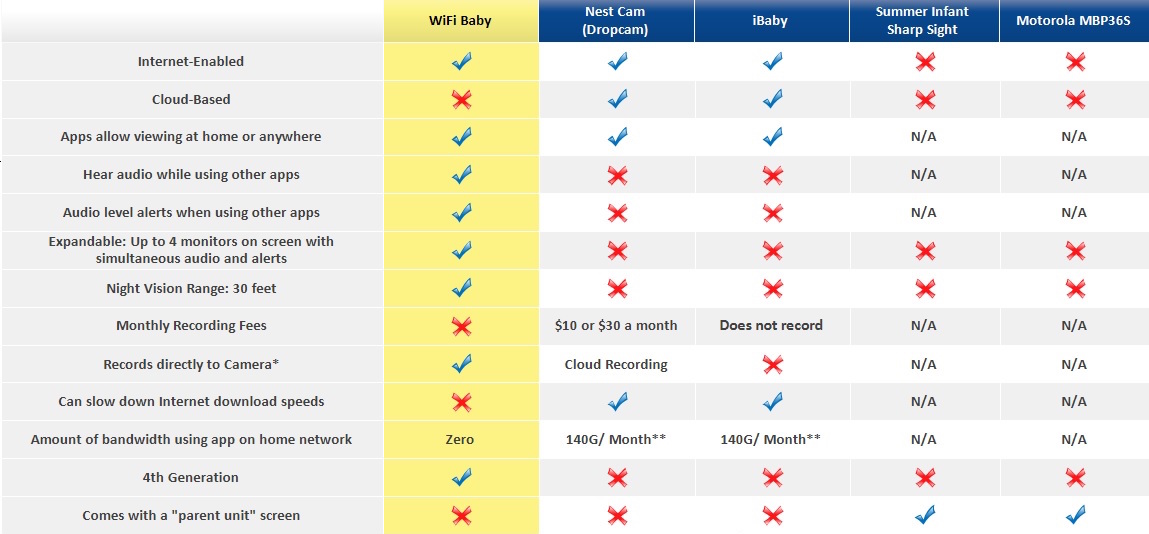 * Up to 32G with MicroSD card
** Internet bandwidth average per competitor's website under their support section
There's tons of monitors out there. What makes WiFi Baby different?
This answer is a bit technical but important in understanding what type of monitor is right for your family.
Traditional: A typical video baby monitor uses an analog or digital signal from the camera to the included "parent unit" screen with a range of just a few hundred feet. These frequencies are not password-protected and can also cause interference with your home WiFi network. Monitoring while on a different floor, walls and other electronics also factors into the interference and range.
WiFi Baby becomes part of your WiFi network like your mobile device or laptop. Because of this, it has the same range at home as your WiFi network and can also be accessed remotely on any internet connection (data plan or other WiFi network).
There is also no need to carry and keep track of yet another device as your iPhone, iPad or Android via becomes the receiver.
Modern Internet-Enabled Monitors: Others use a cloud service that uses bandwidth of up to 140G per month that can drastically slow down your Internet speed. With others, as soon as you plug in the monitor, the video stream uploads and downloads from the cloud 24/7 whether viewing at home or away. It doesn't matter if you are using the app or not, it continues to stream.
You lost me. Why should I care about this bandwidth and cloud mumbo jumbo?
Since a cloud-based monitor is constantly downloading video from the cloud it can cause your Internet speed to slow down along with possible stuttering or decreased resolution when streaming HD movies (ex. Netflix). Video chat, online game playing, file sharing and the total number of connected devices can take up a lot of the available bandwidth. Using a cloud-based monitor that is constantly streaming can cause even more competition for bandwidth which can affect connection speed.
Will WiFi Baby slow down my Internet speed? Does it stay on 24/7?
No. WiFi Baby will NOT slow down your Internet speed. It uses ZERO Internet bandwidth when using apps while at home on your local area network (LAN). It also stays in standby mode and only streams when the apps are being used. The only time bandwidth is used with WiFi Baby is when you are using the app to check in when you are NOT at home. As you will primarily use WiFi Baby to monitor while you are at home on your LAN this is an important factor to consider.
That sounds fantastic but what if my Internet service goes down? Like in the middle of the night? Will I lose connection when monitoring at home? No. The great thing is that since no cloud is used, it does not depend on your ISP's or a cloud server's reliability when monitoring while at home on your Local Area Network.
Are there monthly viewing or recording fees? No. You just buy WiFi Baby, download the iPhone, iPad app and you're done. That is your total cost of ownership.* Others have fees that can make your total cost much more expensive than choosing WiFi Baby.
*iOS App is free and notifications also mirror to Apple Watch. Android app has a one time cost of $3.99 and works on Android phones, tablets, Amazon Fire Tablets, Fire TV and other media players. See details HERE:
Is WiFi Baby password-protected and secure? Yes. We care greatly about your privacy. For detailed information about security and privacy please visit HERE.
Can I buy additional WiFi Baby monitors and view and hear them at the same time? Yes. One of the reasons WiFi Baby is considered the best baby monitor app is because it supports multitasking background audio and up to 4 cameras on screen with simultaneous audio. Multiple authorized users can access the camera at the same time. It is also compatible to access via any browser on Mac or PC.
What if my spouse and I are connecting using the app at the same time? Does it support multiple users? Yes, multiple users (up to 6) can connect to the same WiFi Baby monitor at the same time at home or remotely.
Do the apps work with the latest versions of iPhone, iPad & Android? Yes. Our FREE iOS app works with iOS 11+ – We recommend the latest models for best performance. For Android 4+ or higher.
** For our older customers who have upgraded to iOS 11, the 3rd party app Baby Monitor HD will not work as it is a 32-bit app. You will need to use our WiFi Baby app. More information can be found HERE.
Here is a full list of WiFi Baby compatible apps.
iOS
WiFi Baby (MobiLinc): https://itunes.apple.com/us/app/wifi-baby/id835132912?mt=8
IP Baby Monitor (tinySolutions): https://itunes.apple.com/us/app/baby-monitor-for-ip-camera/id511651356
Cam Viewer (MobiLinc): https://itunes.apple.com/us/app/mobilinc-cam-viewer/id686259467?mt=8
Android – Google Play
tinyCam Pro (tinySolutions): https://play.google.com/store/apps/details?id=com.alexvas.dvr.pro&hl=en
IP Cam Viewer Pro(Robert Chou) https://play.google.com/store/apps/details?id=com.rcreations.WebCamViewerPaid&hl=en
What is the range and clarity of the night vision? WiFi Baby has a range of up to 30 feet in complete darkness which is the longest range of any baby monitor on the market. You can see the entire room.
Does WiFi Baby have 2-Way audio and a speaker? No. This is by design. As parents ourselves we feel it is best for sleep training (and in general) to go to your child's room to comfort them if they are crying instead of talking to them through a speaker.
Does WiFi Baby cost more than traditional video baby monitors? Our price is slightly more than traditional analog and digital monitors but we offer completely different technology and features. Choosing WiFi Baby goes along with why you would choose to pay a bit more for a car seat, stroller or crib: Quality, reliability and functionality.
What is the size of the monitor? WiFi Baby is small and sleek; just over 3″ sq., 1″ deep.
Does WiFi Baby pan or tilt? While WiFi Baby does not pan and tilt it has a wide viewing angle. For examples, please see the screenshot below and ones that our customers have submitted on our Facebook page. In addition, WiFi Baby 4 offers HD video and a 35% wider view compared to WiFi Baby 3.
Is the video RealTime using the app? Yes. Zero delay. WiFi Baby provides RealTime video using the iOS or Android apps. WiFi Baby is optimized for mobile devices.
Is the audio RealTime with the app? There is a slight delay of about 1-2 seconds for audio. This is because audio stream is processed separately so you can leave the app and still hear audio and notifications.
Does WiFi Baby come with it's own "parent unit screen"? No, there is no need to carry around and keep track of yet another device. WiFi Baby offers the convenience of using feature-rich apps on your mobile devices without distance limitations.
Can I listen to iTunes, Spotify while still monitoring my child? Yes. The apps provide "audio mixing" so you can use other audio sources (iTunes, Spotify, games, etc.) at the same time. The best way to utilize this feature is to combine it with auto-mute via the apps. By doing this, you will only hear audio and receive notifications when the sound level in the room exceeds the level you set.
When using the app, how long will my battery last? When you are in the app, battery use is comparable to streaming video (ex. YouTube). If you leave the app and are utilizing the background audio feature it uses less battery and is comparable to streaming music (ex. Spotify). We recommend charging your device for overnight monitoring.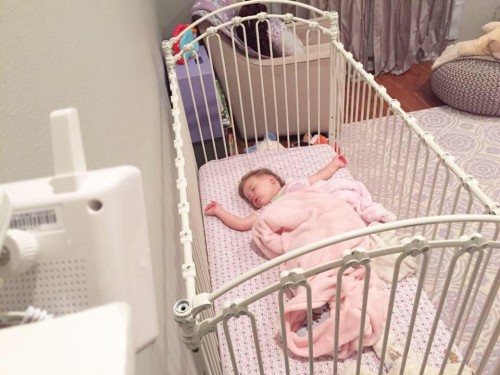 What are the WiFi Baby mounting options?
Wall or Ceiling: Use the two included screws and wall anchors with the adjustable mounting stand. You can also use the six adhesive clips for a cleaner look to guide the power cord down the wall.
Shelf: Use the attachable rubber "feet" on the bottom of the stand.
Free Standing: Use the camera without stand with the attachable rubber "feet" on the bottom of the camera.
What if I need help?
Everything you need to setup WiFi Baby comes in the box: Software, detailed screenshot guide and links to download the iOS or Android apps. We also have a site called MyWiFi Pro (mywifipro.net) with video guides to understand all the features, compatible accessories, tips and downloads for the monitor and apps.
Question? You can email sales@wifibaby.net with general troubleshooting. We also include 90 days of complimentary US based MyWiFi Pro phone support with your purchase. After this time period is $29.99 for phone support. These are trained (and friendly!) experts who will solve any question in a single call. If you ever need any help, expert setup assistance by phone or screen share is available by request during the day, night or even on the weekend.
Are there Blackberry or Windows Phone Apps? No.
Can the WiFi Baby camera run on battery? No, the camera needs an AC connection. Besides the included 6 foot AC adapter the camera is completely wireless.
What are the specs for the camera and AC adapter? WiFi Baby 3 and WiFi Baby 4 AC adapter specs: Input is 100-240v, 50/60hz 0.5A max. Output: 12V, 1000mA.
My home is awesome and wired for Ethernet in every room. I prefer to hard wire WiFi Baby. Is this possible? Yes. While WiFi Baby is wireless, if you prefer an Ethernet connection you can hard wire the camera using the port on the back of the camera. When plugged into Ethernet, it defaults to a wired connection and the functionality remains the same.
What's in the box?
Quick answer below. More detailed info HERE.
HD WiFi Baby monitor
Stand / Wall Mount
6 Foot AC Adapter
Mounting Screws / Anchors
PC/Mac Setup Software (or download from site)
Quickstart Guide
Is it recommended to take your WiFi Baby camera on vacation and reconfigure the monitor on another wifi network? It is not recommended. Once your WiFi Baby monitor is setup on your home network it is authorized ONLY on that network to access at home or away. You would need to reset the camera to factory defaults for security reasons, then set it up on the other wifi network and reset it again when you bring it home. However, the app DOES allow monitoring of multiple cameras in multiple locations. If you plan on monitoring frequently at two locations (ex. your home & grandmas), we recommend the WiFi Baby Twins set.
As far as a hotel or any public wifi it is not possible. The initial wireless setup requires an Ethernet connection to a router using the setup software on PC or Mac to authenticate the monitor on that network.
What is the return policy? Quite simply, love it or return it. We offer easy 30 day returns and 1 year warranty.
Want more? Check out 120 answered questions breaking down any features and details you could possibly ask about WiFi Baby:
FAQ | Best Baby Monitor App Demo