WiFi Baby + Android = Friends
By using the tinyCam Monitor PRO app you can access your WiFi Baby camera on Android phones and tablets.
tinyCam Monitor PRO is an Android app that offers video and audio support for your WiFi Baby camera at home and or anywhere on a WiFi or data plan connection.
tinyCam Monitor PRO is a mature, highly rated Android app with an active developer.  WiFi Baby support is a feature of its existing functionality.  While not a baby monitor themed app, it provides the essentials of a smart phone-based baby monitor.
tinyCam Monitor PRO Features
MultiTask (email, text, etc.) with audio in alerts working in the background

Landscape & Portrait Video on Android Phones / Tablets

(OS 2.3 and above required)



Video and Audio on home WiFi Network and anywhere with a WiFi or data plan
Overrides your phone/tablet's "auto-lock" setting, perfect for overnight monitoring
Video only option, toggle audio on/off
Add multiple cameras to the app, switch between cameras with swipe gesture
Option to add "Home" camera setting  and "Away" camera setting
Easy User Interface, Excellent Customer Support via Facebook or Website
tinyCam Monitor PRO Android Marketplace
WiFi Baby tinyCam Monitor PRO Setup Guide
Follow this guide to setup your Android phone or tablet in just a few minutes!  Screen shots are from a Motorola Zoom tablet using OS 3.3.  Your Android phone or tablet may look slightly different but the setup instructions are the same.
1.  Go to the Android Market and search for tinyCam Monitor PRO.  Select INSTALL.
2.  Once downloaded and installed open the tinyCam Monitor PRO app.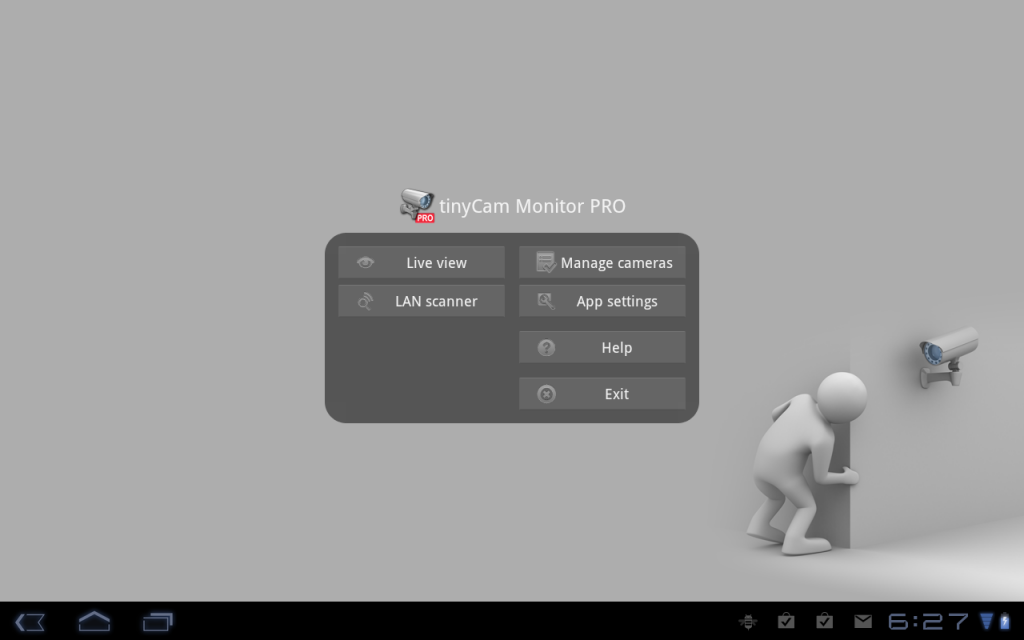 3.  The first time you open the app you will get a prompt to add some public cameras to your list. These are used for demos.  Choose NO.
4.  Once you get to the main app screen, press LAN SCANNER. This will search for your camera on your home WiFi network. Once it is done scanning (will take 30-60 seconds) it will load all of your camera's info automatically, you only need to provide your username and password to add the camera..  If your camera does not appear on the list at first, hit RERESH a few times.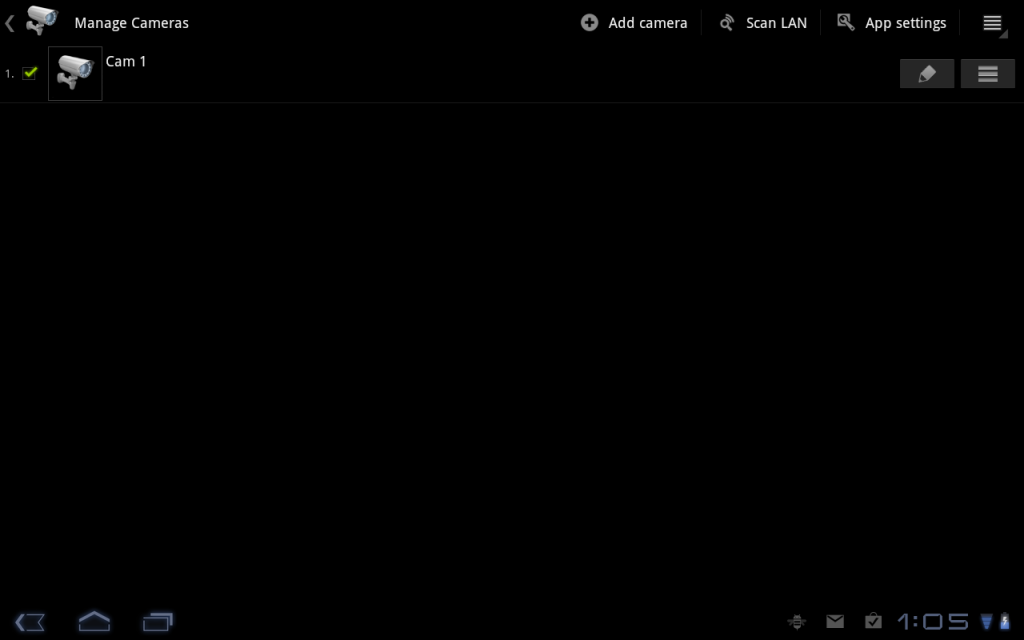 If it appears, go to step 10.  If not, follow steps 5-9. 

5.  If the search function does not find your camera, you can also go to MANAGE CAMERAS and add your camera manually.   
6.  Click the ADD CAMERA button.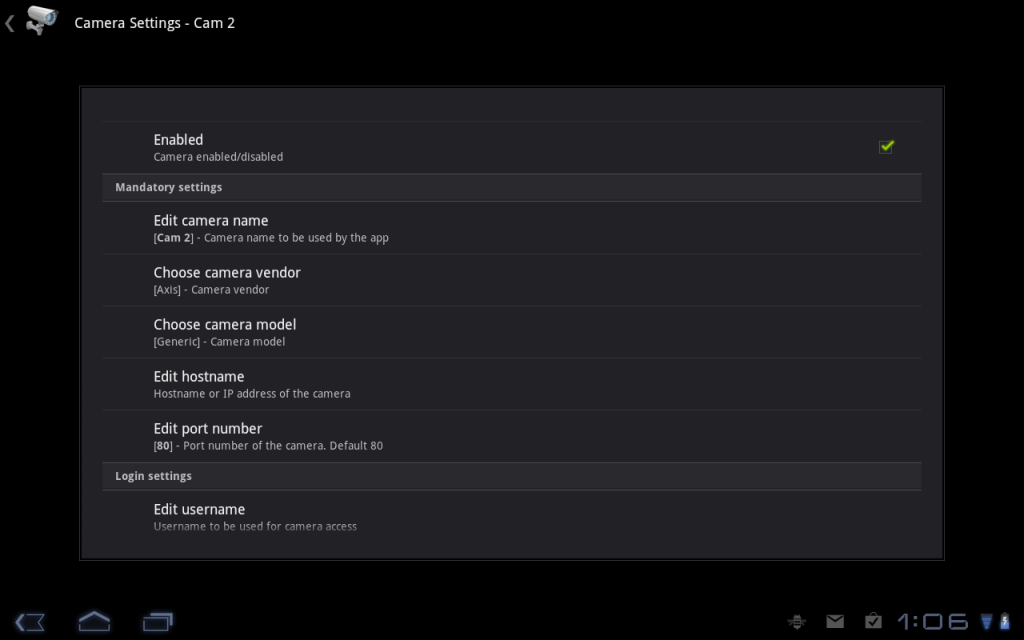 7.  The following options need to be entered.
CAMERA NAME: This will be the name of the camera setup (example:  Baby Room)
CAMERA VENDOR: Click and scroll down to WiFi Baby.
CAMERA MODEL:  Pick type of WiFi Baby Camera – 3G, @Home, Weatherproof, Eye
HOSTNAME: This will be the IP of the camera (example: 192.168.1.150)
PORT NUMBER: This is the port number of your camera (default: 80)
USERNAME: default: ADMIN
PASSWORD: The password you have selected (default: 1234)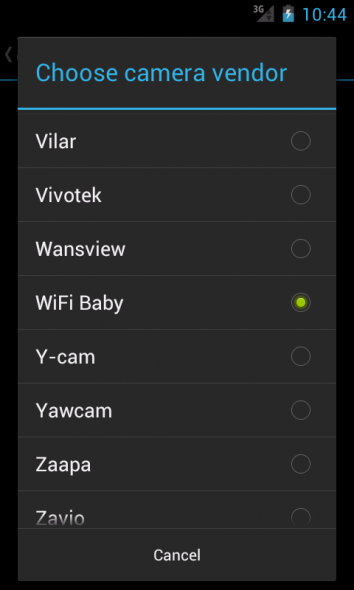 8.  Verify that the Camera status at the top says OK. If not, check your settings.
9.  Click BACK.
10.  Click on LIVE VIEW and you can see the video of your camera.
Unlike the WiFi Baby HD or Baby Monitor HD iOS apps, there is not a toggle switch for HOME and AWAY mode.  This is easily solved by adding another "camera" to tinyCam Monitor PRO.  Just follow use the manual setup above (steps 5-9)to add your DDNS or routers external IP and port info for your AWAY settings using the same username and password.
Example:  Cam 1 – "Baby Room – Home"  , Cam 2 – "Baby Room – Away"
WIFI BABY AUDIO SETUP
A few minor changes need to be made on your WiFi Baby camera.  These audio settings are your WiFi Baby camera's settings using your computer, this is not an option on your Android phone.  These settings need to be done in order for your camera to produce audio on the Android. These steps will walk you through these settings.
1.  Go to your WiFi Baby camera's login screen using your computer (not your Android phone) and select SETTINGS.  Enter your username and password if prompted
2. On the right side of the screen click on CAMERA>CAMERA SETUP. Make sure that the AMR BIT RATE is set to 5.9 and click APPLY. (If you are currently using the iOS WiFi Baby HD / Baby Monitor HD apps, this is already setup.)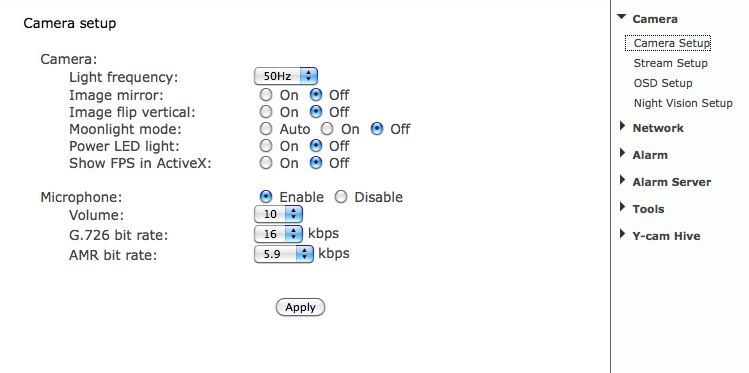 3.  Click on the CAMERA > STREAMING SETUP, scroll down to the MOBILE SETTINGS. Change the last option to DISABLE (For Mobile Devices) and click APPLY.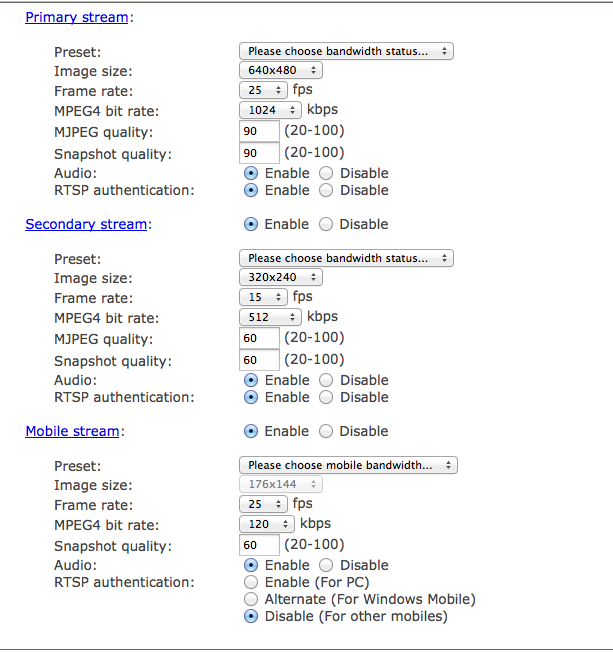 4.  Go to the tinyCam Monitor PRO app on your Android and click LIVE VIEW. You will see a  icon that looks like a speaker with a "X", click on this to enable audio. (On some phones/tablets you may need to be in landscape mode to see the icon).  At this time you may be prompted for a password again. This is your camera login. The camera should now have video and audio.
You are now set to access your camera from iOS devices using WiFi Baby HD / Baby Monitor HD, Android devices with tinyCam Monitor PRO and PC and Mac using Firefox or Explorer. 
**Because of buffering between camera and receiver (phone/tablet) there is a 3-5 second delay for video and audio.  This is normal.