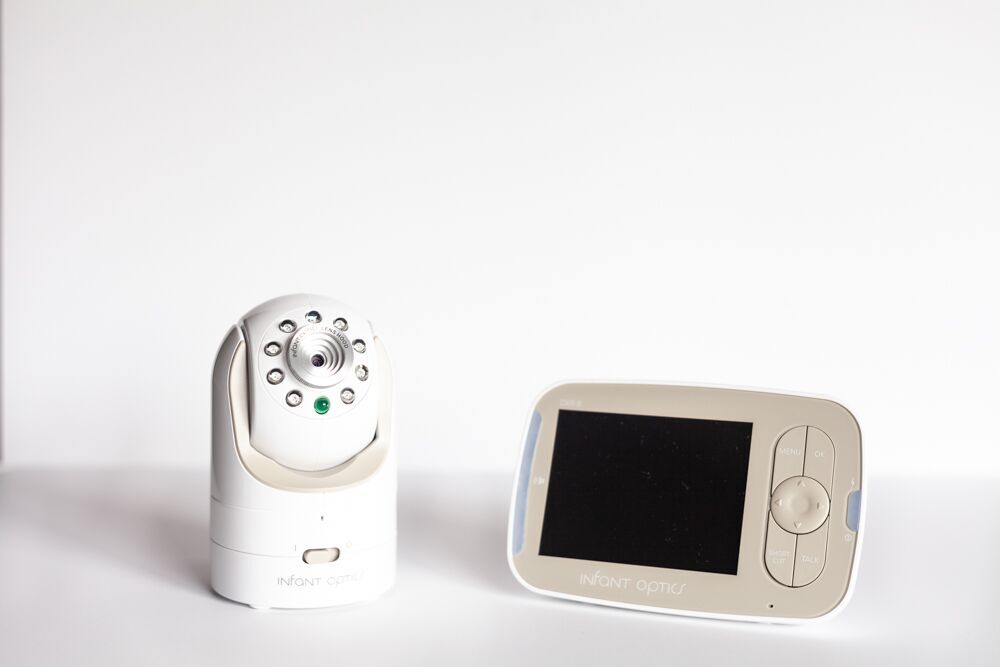 Infant Optics DXR-8 Baby Monitor Review –  Wow. Before we give our review let's mention a few things first.  For several years, the Infant Optics DXR-8 has been the top rated video baby monitor on Amazon. It is also endorsed by Engadget, Wirecutter, Popular Mechanics, and received the Best of the Bump 2018 award.
Per online reviews the Infant Optics DXR-8 is the Big Kahuna, Bees Knees, Cat's Meow, and the BMOC (Big Monitor on Campus) with over 26,000 reviews on Amazon. Yes, that is the correct number of zeroes.
The Infant Optics DXR-8 is in the traditional baby monitor category – local viewing with an including parent unit video screen.  The unit we are going to review was purchased in November, 2018 from Target for $165.99.
We realize you have thousands of other reviews to decide if this is the right monitor for you so we will cut to the chase.  Buy it immediately, if not sooner. It is the best option for performance and features in its price category. Unless you are looking to pay more for additional options of a traditional monitor that also uses an app to view remotely and a larger screen like the newly released Kodak Cherish C525 you cannot go wrong with Infant Optics.
Infant Optics DXR-8 Unboxing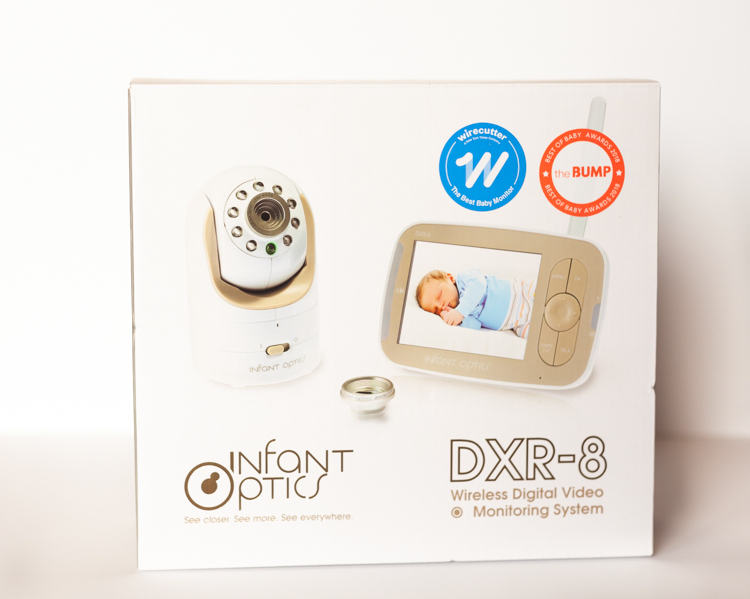 We appreciate frustration-free packaging.  Unlike the Summer Infant Glimpse (a solid contender in the less than $100 category), we didn't need a box cutter to pry out the screen from it's tangled wire prison.  The packaging is attractive, minimalistic and proudly shows off its awards from The Bump and Wirecutter.  The contents are cradled in an egg carton mold and the instruction guide is an actual color and easy to read book. It's not a piece of folded black and white paper with tiny text. The unboxing and plug and play setup was done in less than 5 minutes.
Infant Optics DXR-8 Parent Unit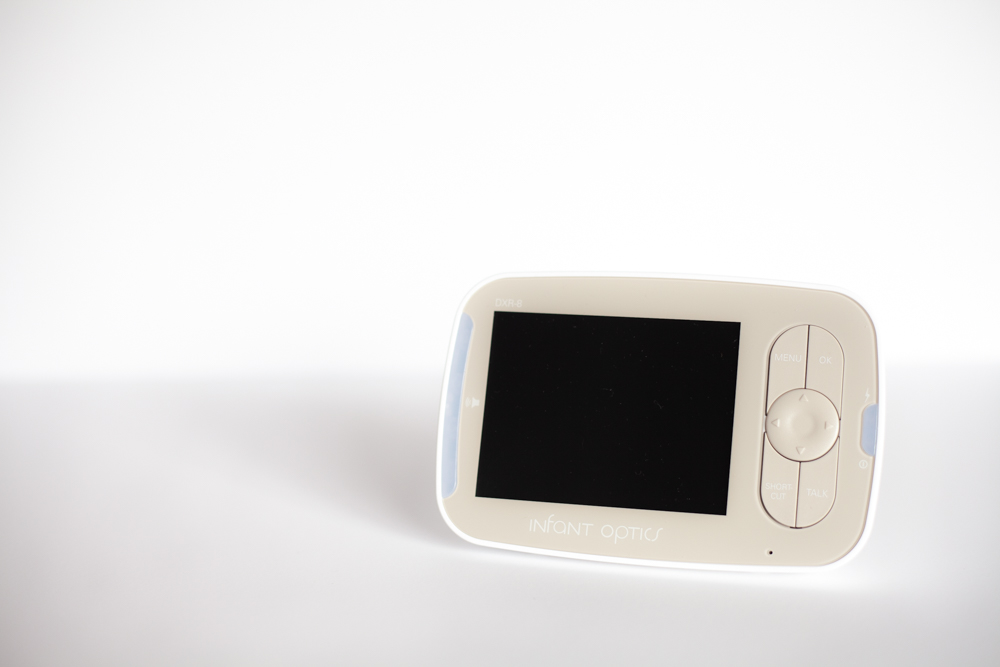 For our test we set up the camera on the 2nd floor and the parent unit in the basement. We should also note that our home was built in 1948 and has thick concrete walls which are a killer for wifi.
The user interface is simple, straight forward and minimizes the number of button presses to get to the needed function. The video quality of the Infant Optics is clear, smooth and has almost no latency (nothing you would really notice) or issue with range. This is not HD quality but as the screen is 3.5″ we did not have an issue with the resolution or see any pixelation. And about that battery?  If you leave the screen on with video and audio it runs down in about 4 hours.  If you put it in power save mode – when the screen turns on ONLY if there is a noise – it lasts all night with at least 1/2 the battery life left.  In both examples this is nearly double the battery life than others we have tested.
Infant Optics DXR-8 Camera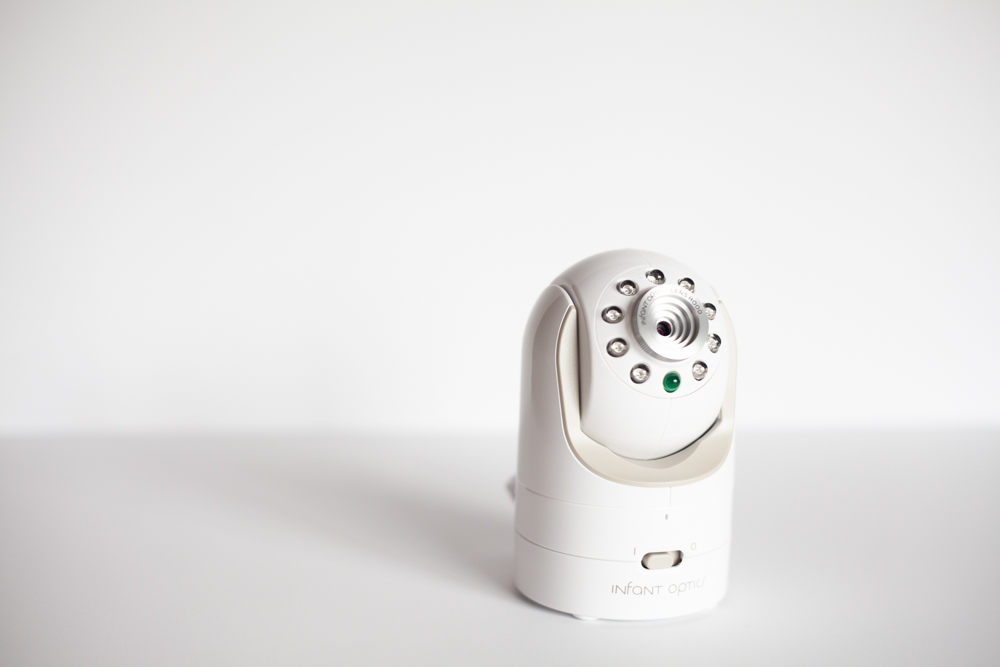 You can add up to four additional Infant Optics cameras (each sold for $99) that you can monitor in patrol mode. You can't see all rooms at the same time but it switches from room to room every few seconds for both video and audio.
Unlike others in this price category, the Infant Optics parent unit gives you the ability to pan, tilt and zoom the camera.  This is a nice feature, especially once your child gets past the swaddle stage and attempts midnight jailbreaks.
In summary, the Infant Optics is a simple to use video baby monitor solution that performs well in all measurable categories. It has a solid build and everything has been well thought out from the moment you open the box. You can find a monitor that has a larger screen or can also work with your iPhone or Android device once you move past the $200 mark but this checks off all requirements in its price category.  This is a recommended buy.
| | |
| --- | --- |
| Model | Infant Optics DXR-8 |
| Price | $165.99 |
| Pan & Tilt | |
| Screen Size | 3.5" |
| 2-Way Talk | |
| Digital Zoom | |
| Touchscreen | |
| Add Cameras | Up to 4 Patrol Mode |
| Motion Detection | |
| Range | 700 ft |
| Rating | |
| Shop | BUY NOW |