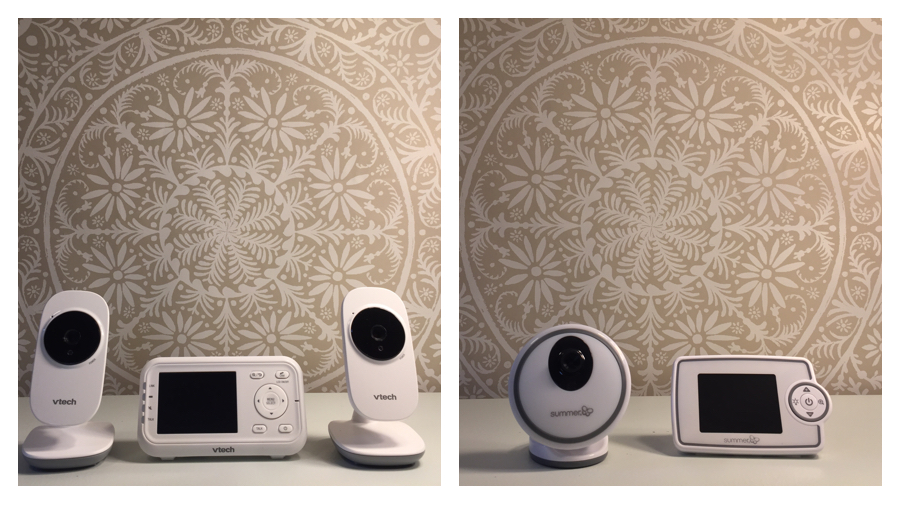 $100 Video Baby Monitor Review
Which $100 Video Baby Monitor is best? In this article we are comparing two popular baby monitors. These come with their own video screen and in the $100 budget category: VTech VM3252 and Summer Infant Glimpse.
These monitors are widely available on Amazon, Target and other retailers.  At the time of this article we bought ours at Target: $99 for VTech (VM3252-2 – two camera version) and $79 for the Glimpse.  The VTech comes in a one camera version for $69.  While the Glimpse is not offered in a 2 camera bundle, you can add a second camera for $49.
Functionality and features are going to be limited at price level. At a minimum you want the picture and audio to be decent, an acceptable range and stable connection – no dropouts.
Digital Baby Monitor Summary
Let's break down the basics.  The digital video monitor category comes with a camera and parent unit. Do not confuse them with the term"wifi baby monitor." This is a term widely used as a general description. These are called "smart" baby monitor which compatible with your home network and smart phone apps. It is not compatible with your iPhone or Android device and you can only access it with the included video screen. You can not view while not at home.  The range is a few hundred yards but this is shortened depending on your home's construction and number of floors. For example, concrete walls are a killer for connectivity.
Baby Monitor Parent Unit Image Quality
Both have a 2.8″ screen which is typically the minimum size for a digital video monitor.   The Glimpse has a 3.5″ screen version for an extra $20 at $99.  VTech does not offer a larger screen in this model. The video quality for both won't knock your socks off but acceptable and I will assume part of this is trickery because the screen is so small.  They do not pan and tilt but both for digital zoom so you can get a closer view and then move around the zoomed image.  In this mode both get blurry but again, acceptable.
Parent Unit Functionality
As expected, both user interfaces are clunky.
VTech:  There are "you'll never guess what this means" icons on the bottom of the screen without any description when in menu mode wasting the rest of the screen's real estate. Simply having a menu to scroll through with the actual name of the options would have been a better setup. Here is where you find the "patrol" mode to scan between the 2 cameras every 10 seconds which is the only time option. Also, the unit beeps for every selection and you can't switch that off.  The unit's battery lasts about 2 hours max so its best to bring the cord with you.  And this charging time will decrease over time.
Glimpse: The user interface is meh. I don't have much to add. About the same gloriousness as VTech. At least it doesn't beep every time you touch it. The unit's battery lasts about 2 hours as well.
Baby Monitor Camera Quality
VTech: It has a solid build but, for no good reason, has a green blinking power LED light that never stops and there is no option to change this setting. Not only is this ridiculous when placed in the nursery at night it is also distracting during the day. With that said, it mounts easily on the wall or just sitting on a dresser and we could easily get the view we wanted.
Glimpse:  The camera is not as solid. It does get points for not having a blinking LED light.
The phrase "you get what you pay for" exists for a reason. While it may sound like we are bashing both of these baby monitors they met our requirements for video quality and connectivity in their price category and range. So, if you can deal with some shortcomings they get the job done for those expectations.
Credit:  Baby Monitor pictures by: Stefanie Fox – Denver Lifestyle Photography
Comparison Chart: VTech vs. Glimpse
| | | |
| --- | --- | --- |
| Model | | VTech VM3252-2 |
| Price | $79.99 / $99.99 | $99.99 |
| Pan & Tilt | | |
| Screen Size | 2.8" / 3.5" | 2.8" |
| 2-Way Talk | | |
| Digital Zoom | | |
| Rating | | |
| Shop | BUY NOW | BUY NOW |