Control it All, One App

Manage alarm, cameras via the free Y-cam iOS & Android app. Alarm and motion alerts, watch live, playback recordings. Anywhere.

   Night Vision Precision

See in complete darkness with exceptional night vision. Clear, crisp and a range of up to 25 feet (Y-cam EVO) and 45 feet (HD PRO).

   MyWiFi Pro Tech Support

Setup takes just minutes using your phone. When you buy from us direct, we also include US based support if you need any help.
   FREE 7-Day Video Storage

Unlike other security cameras, Y-cam EVO & HD PRO includes 7-Day Cloud Storage for 3 years. Review last week, save clips that matter.

   Alerts on iOS, Android

Instant alarm and motion alerts all via one app. Plus Y-cam SmartBuffer technology records the events prior to the alert to review.

   Home Network Friendly

Other security cameras record 24/7 which slows down your network, burns through data. Y-cam records only when motion is detected.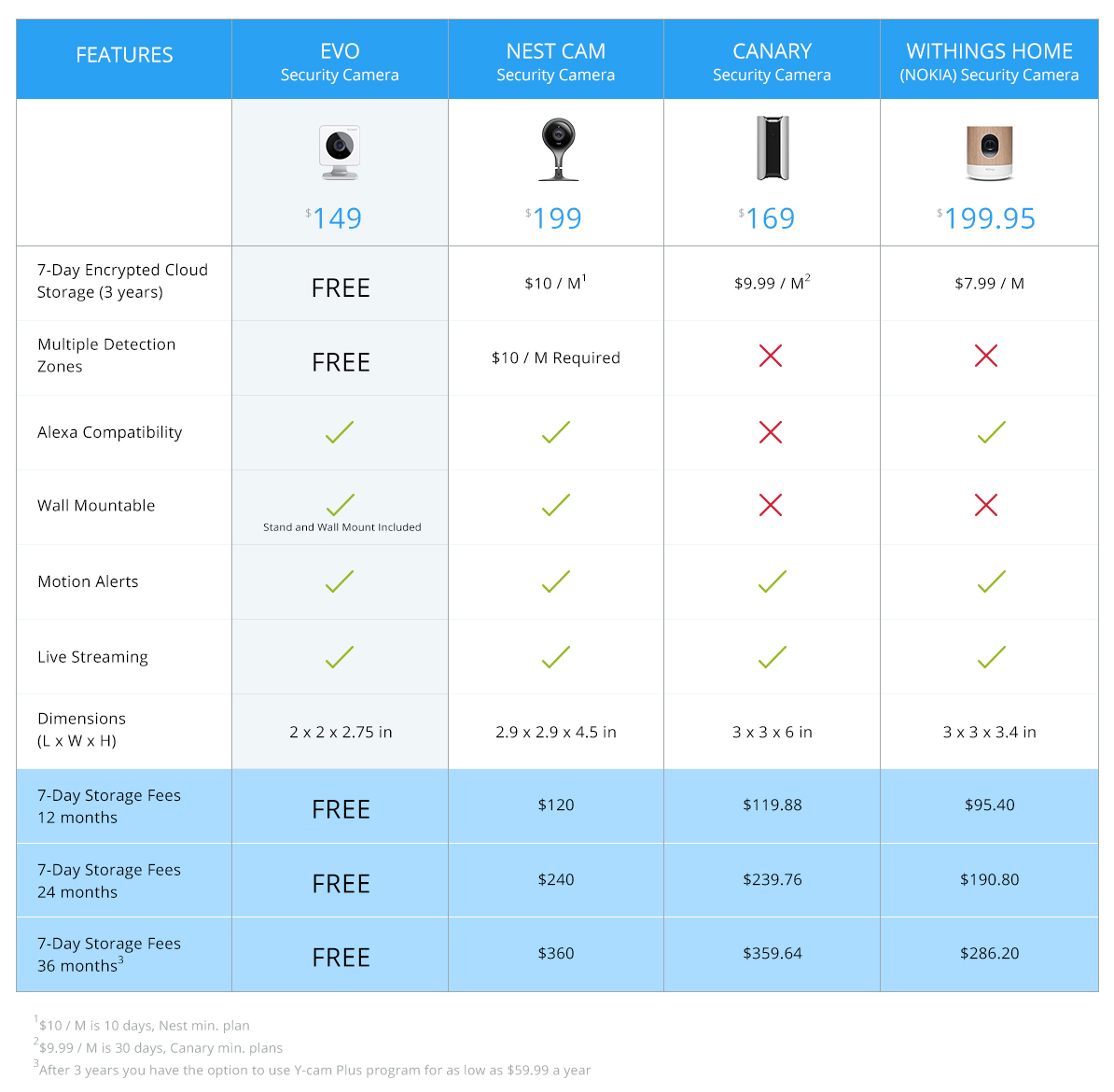 View Anywhere. HD Video
Indoor Only, Not Weatherproof
7 Days Free Cloud Recording for 3 years
Motion Based Recording
Motion Alerts via App
View Recordings via App
Night Vision 24 Feet
Expandable: Unlimited Cameras via App
Y-cam PROTECT alarm & solar-powered SIREN integration
Bandwidth Friendly
Buy Direct = Free US-based MyWiFi Pro Tech Support
Buy > EVO
HD PRO
Y-cam Weatherproof Camera
View Anywhere. HD Video
Weatherproof: IP66 International Standard
7 Days Free Cloud Recording
Motion Based Recording
Motion Alerts via App
View Recordings via App
Night Vision 45 Feet
Expandable: Unlimited Cameras via App
Y-cam PROTECT alarm & solar-powered SIREN integration
Bandwidth Friendly
Buy Direct = Free US-based MyWiFi Pro Tech Support
Buy > PRO