Is WiFi Baby under different ownership?  No. Same company and team.  You will continue to receive the same high level of support that WiFi Baby is known for our with our new MyWiFi Home security product line. All customer service and support remains US based.
Are you changing your name to MyWiFi Home? Yes, but first a bit of history. WiFi Baby is an American, family-owned startup born in 2010. Since that time we have sold 4 generations of WiFi Baby, an award winning wireless smart home baby monitor that provides video, audio and alerts anywhere via iPhone and Android apps.
As our company has grown, so has smart home technology and the needs of our customers. Instead of a 5th generation baby monitor we thought of the whole family and now offer an affordable and expandable home security system.  This includes indoor and outdoor cameras: EVO ($149) and OUTDOOR PRO ($219).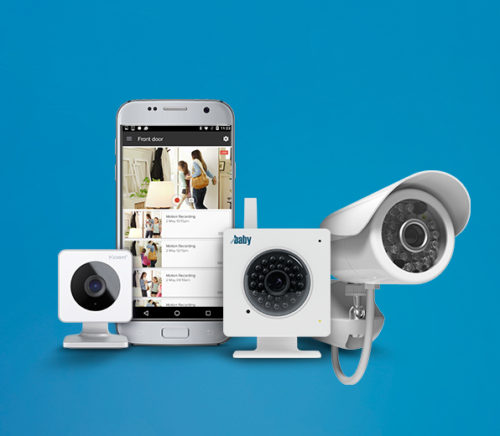 If I want two or more cameras are there bundle discounts?  Yes. Please see the product listings for details.
What are the other costs such video cloud storage?  Unlike others that charge a monthly fee for ANY storage, ours automatically includes 7 Days of FREE video cloud storage for 3 years.  
When you have a concern from an alert or otherwise, you can review motion recordings over the last week from the app and download the clips that matter. The video clips do not take up memory on your device until you opt to save them. And you can also do this from your desktop.
Take a look around and you will find that others charge $10/month for 7-10 days of video storage.
What about when I'm home?  I don't want my family to set off the alerts and recording.  The app has a location-based feature that, when enabled, will automatically turn off the motion alerts when you are home.  When you leave, they will be active.
Can I just set the days and times I want the motion alerts?  Yes. Instead of using the location-based feature in the app you can set a schedule when your family is typically not home or asleep – or should be asleep. An example would be 9am-5pm and 11pm-6am Monday – Friday.  In this case the motion alerts are active only these days and time frame.
Can I specify certain areas of the room to trigger the alerts?  Yes.  Using the app you can multiple zones such as a door, window or cookie jar. Whenever someone goes past this zone it functions as a tripwire sending an instant alert to your phone as well as recording the event.  
What if I happen to be watching live and see something I want to record?  Easy.  Just click the red record icon in the app and the live streaming video will save to your cloud account just like a motion recording.  Then just review and download it to your phone if you want to save it.
Being able to review the last week of recording is great but what if I want to upgrade to 30 days?  We have two affordable plans for this option.
While 7 days of rolling recording is free for the first 3 years, if you want 30 days you can upgrade to the Plus Standard package for just $5.99/month* (optional in-app purchase).
Optional 30 Day Storage Plans:
Plus Standard (1 Camera): $5.99/month or $59.99/year (2 months free)
Plus Premium (Unlimited Cameras): $9.99/month or $99.99/year (2 months free)
How do these storage plans compare with other companies? Others charge $30/month or $300/year PER Camera for 30 days of storage.
What about when the 3 years of free 7 day video storage is over?   Either package can be used after the 3 years of free 7 day cloud recording storage is over. At this point we give you 30 days of cloud storage $5.99/month or $59.99/year. Or if you have multiple cameras you would opt for the unlimited camera option. Recording is not mandatory for the cameras to work.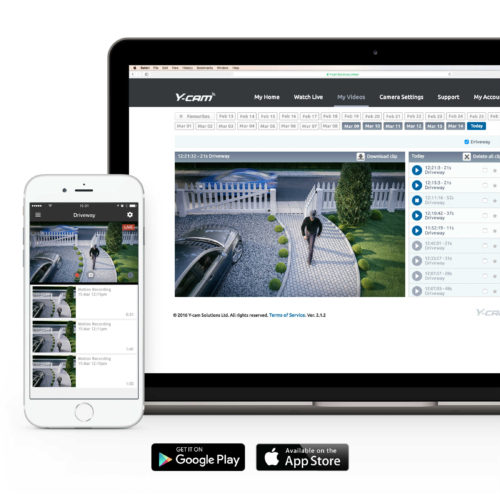 "Expandable security."  Explain that more.  If you are just looking for indoor and outdoor smart home security cameras we have you covered.  Buy one or grab bundles at a discounted price and then add our soon to be released alarm system as you go along.
Can I use the WiFi Baby app with the EVO and OUTDOOR PRO?  No. There is a separate security app.  Please see this link in our store for details.
Will you be releasing more security products that work with EVO and OUTDOOR PRO? Yes. The EVO and OUTDOOR PRO cameras integrate with the soon to be released PROTECT alarm and 105db solar-powered outdoor SIREN (Scroll down for a preview).  You can add as many cameras as you would like and manage the entire alarm system from the same iOS or Android app.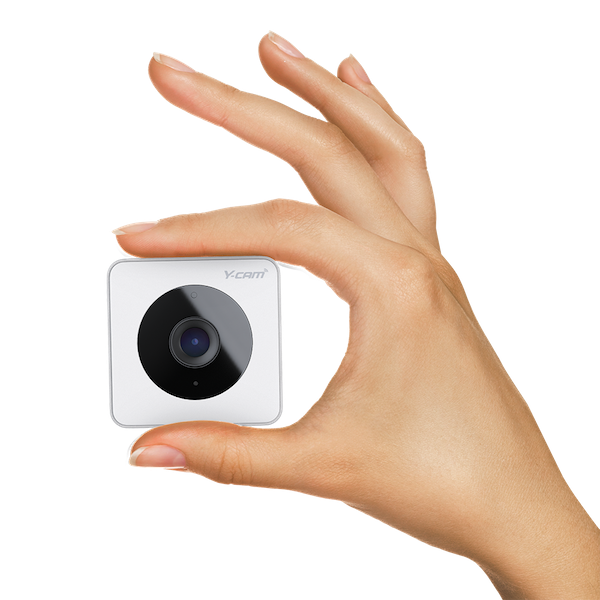 Will you continue to sell WiFi Baby? Yes.
Can I use the EVO Indoor camera as a baby monitor? No.  It is specifically designed as a cloud-based security camera focused on motion recording and not 24/7 continuous viewing – such as overnight monitoring and background audio and alerts while using other apps. Unlike WiFi Baby, there is a time limit on live video viewing via the apps so it is not suitable for a baby monitor.
While WiFi Baby has grown, our camera line has shrunk in size! EVO is just 2″ square and half the size of WiFi Baby.  Small, sleek and…adorable. Additionally, it has motion detection and, unlike others, 7 FREE days of cloud recording storage.
Tell me about the MyWiFi Home and Y-Cam partnership.  Y-Cam is an award winning, trusted British brand located in London with 10 years of protecting people and properties. We have worked with Y-Cam since our company launch in 2010. Because of the success of WiFi Baby, we have expanded that relationship to exclusively bring their product line and support to the US. Our complete system of cameras, PROTECT alarm and solar-powered SIREN is called "MyWiFi Home."
Here's a summary about Y-Cam as well as a comparison chart breaking down the features and price of EVO, OUTDOOR PRO and WiFi Baby.

View Recordings via App. Save Ones That Matter.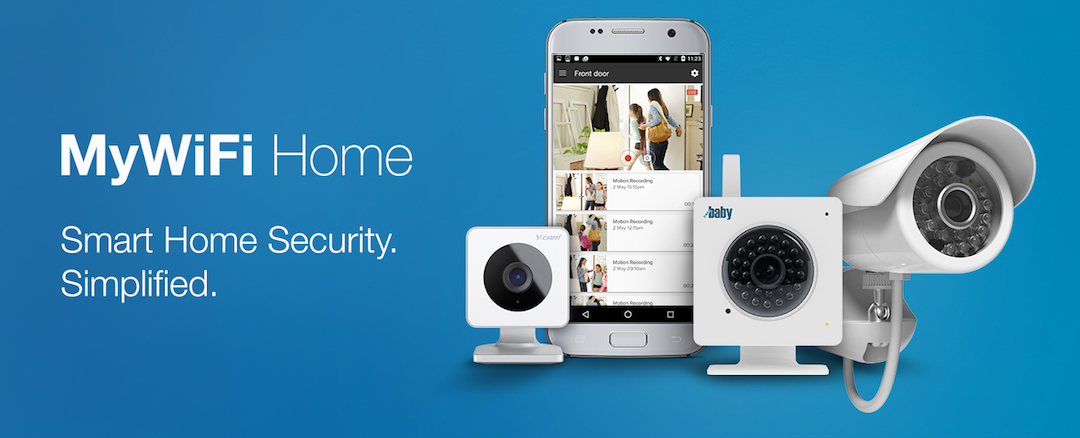 View Anywhere, 720p HD
7 Days Free Storage
Motion Based Recording
Motion Alerts via App
View Recordings via App
Save Important Clips
Night Vision 24 Feet
Manage EVO & OUTDOOR PRO via App
Expandable: Unlimited Cameras
View 1 Camera At a Time
PROTECT and solar-powered SIREN Integration (coming soon)
Bandwidth Friendly
Bundle Discounts
Weatherproof
Not suitable as Baby Monitor
No Audio Alerts
No Audio While Using Other Apps
Buy Direct = Free US-based MyWiFi Pro tech support
Not Designed for 24/7 Live Viewing
BUY NOW
OUTDOOR PRO
Security Camera
View Anywhere, 720p HD
7 Days Free Storage
Motion Based Recording
Motion Alerts via App
View Recordings via App
Save Important Clips
Night Vision 45 Feet
Manage EVO & OUTDOOR PRO via App
Expandable: Unlimited Cameras
View 1 Camera At a Time
PROTECT and solar-powered SIREN Integration (coming soon)
Bandwidth Friendly
Bundle Discounts
Weatherproof
Not suitable as Baby Monitor
No Audio Alerts
No Audio While Using Other Apps
Buy Direct = Free US-based MyWiFi Pro tech support
Not Designed for 24/7 Live Viewing
BUY NOW
WiFi Baby
Smart Baby Monitor
View Anywhere, 720p HD
No Cloud Recording
N/A
Audio Alerts via App
N/A
N/A
Night Vision 30 Feet
Manage WiFi Baby via App
Expandable: Up to 4 Cameras
View & Hear 4 Cameras, Same Time
No ALARM Integration
Bandwidth Friendly
Bundle Discounts
Weatherproof
Baby Monitor Solution
Audio Alerts, Automute
Background Audio While Using Other Apps
Buy Direct = Free US-based MyWiFi Pro tech support
Designed for 24/7 Live Viewing
BUY NOW
Coming Soon: PROTECT Alarm System & Solar-Powered SIREN