Here are tips to solve the majority of setup issues.
Nanny Cam "Away" mode help?
WiFi Baby 3 Nanny Cam Setup Guide
WiFi Baby 2.0 Nanny Cam Setup Guide
1. I know I'm typing my wireless network password correctly but I'm not sure if it's WEP, WPA, or WPA2 so I can't get my camera to connect during the Wizard setup process.
TheQuickStart Guide PDF and Wizard setup software helps you discover what type of encryption method (WPA, WPA2, WEP) your router is using.  Here's another way to confirm.  Go to SETTINGS > NETWORK > WIRELESS NETWORK > SEARCH.  It will pull up a screen like the one below showing all available wireless networks and the type of security.  Just select "Apply", enter your password, and select "Test" to verify.  Go back to the Wizard setup, finish the process and let your camera reboot.  Now your camera is wireless!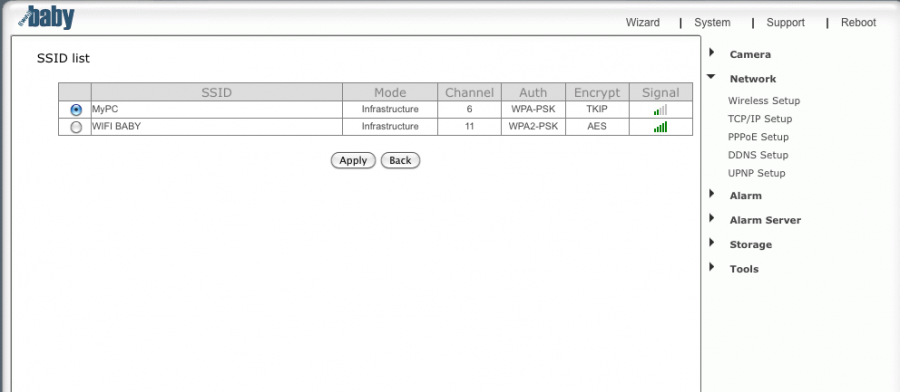 2.  Everytime I unplug my camera it randomly changes IP addresses so when I open my apps or bookmarked page on my browser it is not automatically connecting to it on my WiFi Network .
You need to change your IP from Dynamic (changes) to Static (never changes). This is easy to change, but first, a quick explanation.
Not all wireless routers are the same when it comes to assigning IP addresses.  Depending on the router you have, it may assign different dynamic IP addresses to your camera when you unplug it or the power goes out as the camera is being "discovered" again as new to the network.  (When you go to Starbucks, for example, and you connect to their WiFi, your iPhone or laptop is assigned a random IP.  When you leave and come back it gives you another IP. )  This will affect the setup process as the iOS apps and the address you bookmark on your browser is pointing to your camera's specific address to find it everytime and work.
Go on your camera's settings under SETTINGS>NETWORK>TCP/IP
The following screenshots are examples. The IP addresses of 10.0.1.201 is for an Airport/Time Capsule and 192.168.1.150 is for most other routers (could also be 192.168.2.150, etc). These are examples and do NOT have to be these IP addresses or port numbers.  Base your IP on the initial Wizard setup with only using variations numbers of the original one given after the last "."  This is process is explained in more detail at this ASSIGNING A STATIC IP GUIDE.
Press Apply and enter the Static IP / Port Number in your iOS device and browser to pull up your camera's video & audio.
—-   3.  The iPhone | iPad app is working great for video but the audio sounds distorted.
By default, the audio stream on your camera should be set on 5.9 AMR Bit Rate.  If not, the sound will be distorted.  You can check if this is the case by going to SETTINGS > CAMERA > CAMERA SETUP > AMR BIT RATE.  If not,  select 5.9 from the dropdown menu and press "Apply."
4.  I ran the setup software but it keeps searching for my camera and it's not finding it.
For the setup process make sure:
* Your camera is plugged into your wireless router with the provided ethernet cable and to a power source. This is the only time it needs an ethernet connection; after the "Wizard" setup process is complete your camera will be wireless.
* You are running the most current version of our setup software. This should be the version on the included CD-ROM.  Downloads are also available on our homepage sidebar under Apps, Downloads, Support.
* On older OSX (10.5) the Mac setup software utilizes a program on your Mac called Rosetta to find your camera.  The Mac software should automatically use Rosetta but to verify, simply press CONTROL, click on the setup software icon, and select "Get Info."  If Rosetta is not checked, just check it and reopen the setup software. For more details and screen shots of this process click HERE.
5. I ran the setup software, entered my wireless info correctly and my camera rebooted but it still says it's not wireless when I go under SYSTEM.
Don't worry about it.  Until your camera is disconnected from the ethernet cable you used for setup it will not indicate it is wireless since it still has a wired connection.  Just unplug your camera from power and ethernet, wait 30 seconds and plug it back in (power only) anywhere in your house.  Wait another 30 seconds and type in the IP address your camera has been assigned from the setup process in your preferred browser.  You are now wireless.
6.  I forgot my password, I'm locked out or just need to restore the camera back to factory settings.
Yikes!  Remember to add your user and password to your contacts or somewhere safe as you will need this info to login to the settings and for the apps.  If you have lost your password, for security reasons you may ultimately need to reset the camera but try the following tips first:
1.  If you are using the Baby Monitor HD app for iPhone and iPad go under SETTINGS>CAMERA and you will see an email button – see screen shot below.  This will email all your camera settings to you including your password and username.
2.  Reset:  This is a last resort.  We really suggest trying some passwords you usually use or try the default username/password of "admin" and "1234."  If this doesn't work, do the following to reset it to factory settings:
Plug your camera in to power only.
Put a paper clip into the reset hole on the side of the WiFi Baby camera for 10 seconds.  Wait about 30 seconds and it will reboot.
Find the WiFi Baby setup application you originally downloaded on your Mac or PC
Open the application to find your camera on your network.  The sign in screen will appear.
Log back in with admin and 1234 as the password
After setup, remember to change your password under Tools > Users and save it somewhere safe for future use
Tip:  If you used our MyWiFi Pro support during original setup you will have an "setup completed" summary email from the rep that helped you with all your settings.  If you search "@wifibaby.net" in your inbox you should be able to find the email.  This is optional but you can use this to the exact settings to how the camera was setup prior to resetting because the password was lost.