Support Ticket


Wireless Setup Guides – Home Network
Prior to requesting support, please see the following links that quickly answer and solve the majority of setup issues.  We have taken great care to provide detailed wireless setup screen shot guides for your WiFi Baby camera and iOS & Android apps.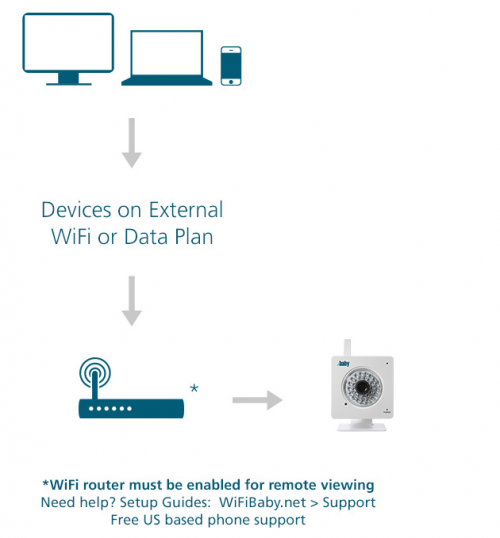 Wireless Setup Guides – Nanny Cam "Away" Viewing
Please use the following links for detailed screen shot guides to access your WiFi Baby camera remotely on any data plan or external WiFi network.
WiFi Baby 3 ships with a preconfigured MyWiFiBaby URL for a streamlined setup to connect anywhere.
However, depending on the brand of your router, WiFi Baby's feature of viewing your camera outside your WiFi network for use as a Nanny Cam may require adding a permission ("port forwarding") to your router's firewall settings to access the camera remotely.  This process is usually straight forward using the above setup links.
In rare cases it can vary from easy to complex based on your brand of router or if you have a unique home network configuration (several routers, networks, extenders, etc.). We are happy to help and our free U.S. based support will take care of you regardless of your network or brand of router.
Support Ticket
We provide US based phone and screen sharing support by scheduled appointment during regular business hours (9-5) , at night (5-10) and even on the weekend.
US based phone and screen sharing support by appointment is included in all purchases.
Just have a quick question?   support@wifibaby.net   |855.943.4367
Per customer demand, we staff a higher number of reps AFTER normal business hours Monday – Friday between 5-10 PM and weekends.
This service includes:
Shared Screen Session

Phone Support

Set Appointment Time (Day, Night or Weekend)

Detailed Completion Email with settings & direct contact info from rep
We've all experienced traditional support call centers for various types of businesses that are only open from 9-5… when you are at work. You call, wait on hold for 20 minutes, finally get a barely trained rep who can't solve the problem, they put you back on hold and then you are transferred to several other departments until you get a "Level 2″ rep who (hopefully) takes care of you.
We do things a bit different to accommodate our customer's busy work and parenting schedules.  We "in-source" our US based support and all our reps are fully trained network specialists that will call you at a specific time you choose during the day, night or even on the weekend. They will efficiently take care of you over the phone or a screen share session.  And they are also super-nice.
Please fill out the Support Ticket below and a trained network specialist will contact you to arrange an appointment that works best for you.  Most appointments are scheduled and solved within one business day.