iPhone App Setup

This is the Quickstart Guide for the iPhone and iPad app. Want to know all the features? Please download the complete app guide PDF HERE.
Set up the first camera into the Baby Monitor HD v6.x application.
• Go to the iTunes App store from an iOS device (iPhone/iPad/iPod) and in the search box type "Baby Monitor HD". When found, purchase and install the application. The app will look like the one shown below.
** Note** When purchasing the app from iTunes; if there is more than one iOS devices associated with the iTunes account, the app will only need to be purchased one time and can be installed on all associated devices.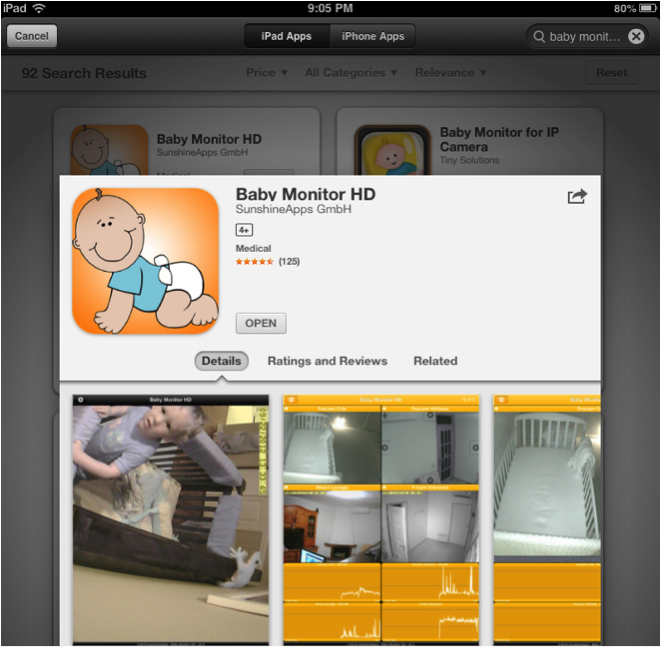 • The first time Baby Monitor HD is opened you will be asked to "Search for Local Network Camera" , click "Search"
** Tip** make sure your iOS device is on the same WiFi network as the camera before searching.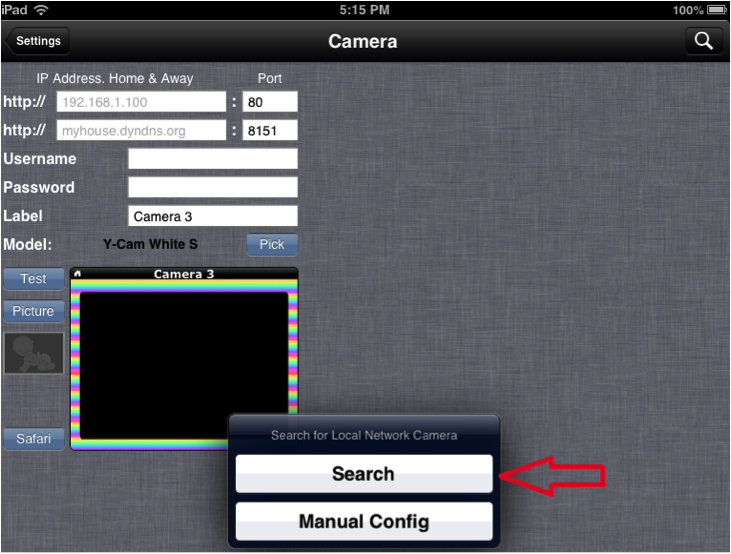 • When the search is done the app should find the Wifi Baby Camera. Simply tap the camera you want to set up.
• Configure the settings for the first camera.
o Under the "IP Address. Home & Away" section, the top most IP address and port fields should now be populated with the correct IP address and port number of the camera that was selected. These are your "Home" mode IP address and port settings.
o The second set of boxes under the "IP Address. Home & Away" sections are used for the "Away" mode feature. This is the address the app will use to access the camera when the iOS device is away from the home network. We recommend in the Away (or bottom) IP address box a DDNS hostname be used in place of an external IP address. In the port field enter the port that was configured for external access to the camera.
**NOTE** More information can be found on setting up a DDNS hostname on the Wifi Baby website here.. NANNY CAM DDNS SETUP

o Type in the username and password for the camera. This is typically the "admin" user and the password that was assigned to that user during the camera setup.
o Select next the camera model by tapping the "Pick" button. Then select the camera model from the scroll wheel. For WiFi Baby products select "Wifi Baby."
• In the "Label" field give the camera a friendly name to identify this camera. (not required)
• Click the "Picture" button and select a favorite picture to display when the video is not active. (not required)
• Click the "Test" button if the settings were entered correctly an image should now be displayed in the test window.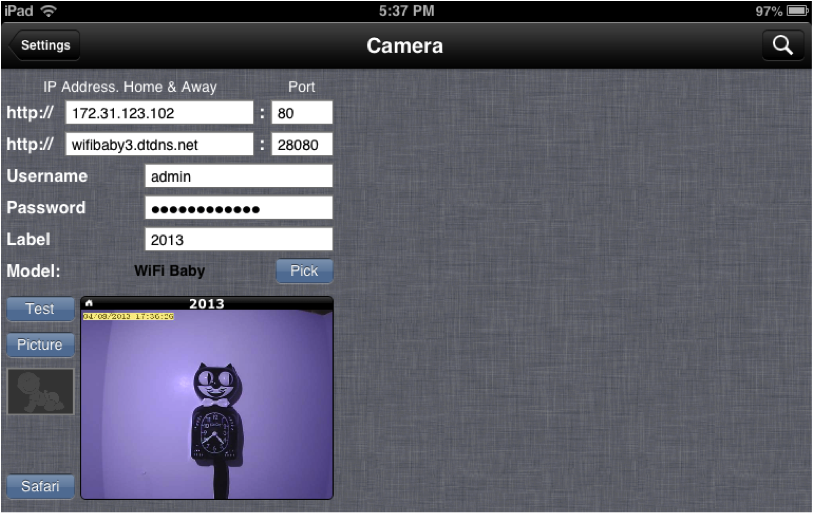 • Finally press the "My Baby" button on the upper left of the page to display your video feed.
You can now view your WiFi Baby camera at home or anywhere.
For a complete list of screen shots and features including the LONG PRESS option (shown below) on your camera screen, please download this complete app guide PDF.