Customer Reviews

Here are iPhone and iPad app screen shots and comments posted from our customers about our product and US based tech support team.
For more customer feedback and original postings of these comments, please visit our
Facebook Page under "Recent Posts By Others."
Customer Testimonials: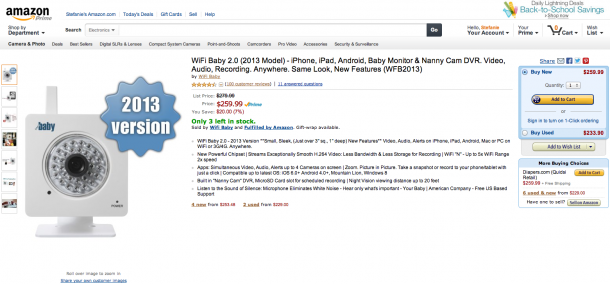 "Love our new Wifi baby camera! So wonderful to check in our kids from anywhere with both video and sound from a simple app on my iPhone or iPad. After trying more than 10 monitors with horrible crackling noise or video that was unclear, I finally have found the perfect monitor!" – Stacey S.
"If you're going to get a baby monitor / Nanny Cam. This is the only place to go." – Mark J.
"You ROCK!!! Thank-you for your help today and getting my camera's up and running." – Jesse D.
"We received our wifi baby 2.0 yesterday and we think it's great!" – Evan S.
"We just installed our camera and used it for the first time last night. I am able to see my baby from my iphone, ipads, and laptops. So excited how easy it is to use." – Jessica V.
"I really appreciate the level of customer service WiFi Baby offers. I will definitely recommend this product to everyone." – David T.
"(They) did a screen sharing session with me and within one hour my cameras were setup along with my iPhones and my iPads! Everything works perfectly! The support you get from this company is worth the cost of the cameras. I've seldom found such great customer service. Thank you Wifi Baby!" – Annie F.
"I love my wifi baby monitor, and I received some great technical support in the beginning! I would recommend this product to anyone without hesitation! Actually, I'm going to purchase an additional daytime monitor for the playroom! "- Jen B.
"Had a question about the audio.  Sent a question and had an email response and solution in less than an hour.  It doesn't get any better than that.  You guys rock!" -  Tagez
"Just got a Wifi Baby and I LOVE it! Thanks for the great phone and online support too, fast and nice.  Now I can check in on my little one from anywhere I get a signal on my cell phone, awesome!" – Kelly D.
"Great to see a family finding something that parents were missing in their toolbox of tricks and making something people could really use. Thanks!" – Matt M.
"Set up my 1st WiFi Baby camera last week to keep an eye on my 2 little ones when they are using the playroom and mommy has to make dinner or something. and went to show it to someone when i was out running errands and had childcare at home – didn't realize it was set up for remote viewing. very cool. love this product. thanks for making it! i just ordered my 2nd camera." – Colleen P.
"Loving my camera. I got it on Saturday and had it up and running the same day from home. I had a problem trying to view the camera from my iPhone when I was away from home. I submitted an email to tech support and received a response the same day. We scheduled a call for Monday and my issue was resolved. Best support that I've received in a long time. Don't hesitate to contact tech support if you have any questions on how to do something." – Tawanda L.
"WOW!!! These guys are the BEST!!!! Bought mine 3 months ago and went to set it up last month. I couldn't get it working. Surely the product wouldn't live up to the service? Yes it does!!!!!!! Which makes it even better. Myself and my wife have it on two iPads, my Mac, her PC, two iPhones and my mom can watch the baby from Ireland. I cannot say enough about wifi baby product and support system. There are enough things to stress about when having a baby and this will not be one of them. We had a healthy bouncing baby boy 2 weeks ago!!!" – Ray D.
"This is a great product! I had issues with external viewing and tech support helped me out and made it super easy for me. Thank you Wifi Baby!" – Jasko K.
"Great product with outstanding support! Nice to talk with someone who knows the product and the installation so thoroughly." – Mike B.
"Thanks for the excellent support yesterday. You were so helpful and patient, and I really appreciate the follow-up email as well. Wifi Baby is terrific!" – Artina S.